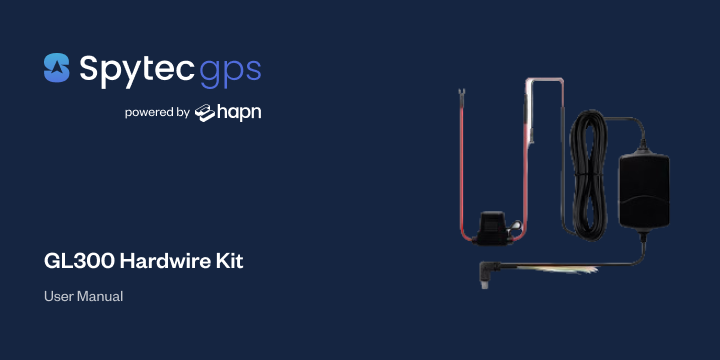 The Hardwire kit for the GL300 GPS tracker allows you to connect it directly to an external power source. This will eliminate the hassle of recharging batteries, making this a very low friction, low maintenance, way to install the GL300 in a semi-permanent state.
What's in the box
Mini USB Plug
Mini USB to USB-C Adapter
Voltage Converter
Chassis Negative (Ground Lead)
Positive Lead
Inline Fuse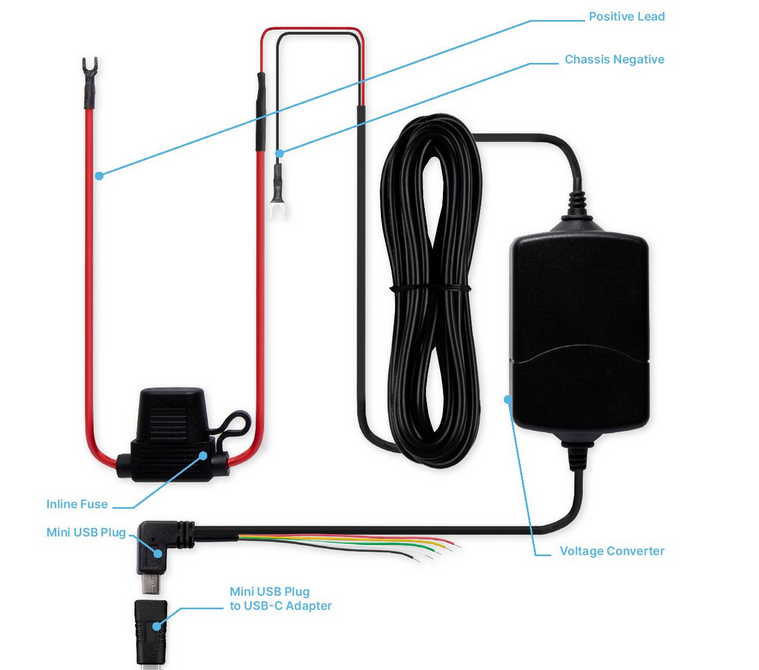 Installation
To install the GL300 Series Hardwire Kit, begin by identifying the red positive lead
on the Hardwire Kit. This is the lead that will connect to the power source in your
vehicle. Please consult your vehicle owner's guide to identify. These power sources
may vary based on vehicle make and model, so it is very important to consult your
vehicle's documentation.
Once you identify the power source, you will then need to select an appropriate
ground for the Hardwire Kit. Attach the black ground lead to this ground. Please
consult your vehicle owner's manual to correctly identify a ground near your
preferred power source.
Once the positive lead and ground lead are connected, attach the USB-C adapter
to your GL300 series tracker, and attach the mini USB plug to the adapter. This will
power the unit and keep the tracker's internal battery charged. (If you are using
an older GL300 tracker, you may connect the mini USB plug directly to the tracker
without the adapter.)
Once the positive and ground leads and the mini USB and adapter have been
attached, place the tracker in the wired location. The 5.7 ft (1.7 m) kits power
cable allows you to position the tracker away from the Hardwire Kit. The voltage
converter must also fit in the desired location, so please ensure that there is room
for the entire kit. Secure the kit and tracker in place with adhesive foam or an
alternate adhesive.
Important Facts
Some vehicular power sources are tied to the ignition of the vehicle, while others
may power your tracking device even when your vehicle is turned off. Please keep
this in mind when choosing your power source.
Please contact your car-care professional for installation if you are unfamiliar with
installing vehicular electrical components
This kit is designed for use with Spytec GPS GL300 series trackers only. It has not
been tested for use with other trackers.
Tuck away colored cables, as they are not needed.
Specifications
HW Specs

Input voltage
DC10-36V 1A
Output Voltage
5V
Connection Type
Mini USB, optional Mini USB to USB-C adapter

Dimensions

Cable Length: 5.7 ft (1.7 m)
Help
Thank you for purchasing a Spytec GPS product. We appreciate your business and strive to make your experience the best possible. If you have any issues with your product, contact us at the following addresses:
Email tech support questions to: support@gethapn.com
Email billing questions to: support@gethapn.com
To download user manuals—including the one for the Hapn platform software that you'll use to track your GPS device from a phone, tablet or computer, go to:
Log into your tracker at: app.gethapn.com
To download the IOS app go to: store.apple.com/hapn
To download the Android app go to: store.google.com/hapn
Warranty
This Unconditional Lifetime Warranty applies to the GL300 GPS Tracker sold by Spytec GPS. This warranty covers any manufacturing defects to the device or accessories encountered during normal use, with an active Spytec GPS subscription. This warranty does NOT cover damages resulting from improper use of the device (including the use of incompatible accessories such as chargers, storage devices, etc.), unauthorized modifications to the device, negligence, any environmental or natural disasters, or loss or theft. This warranty does NOT cover water damage. This warranty requires proof of sale of the device from Spytec GPS or approved resellers only.
Devices that are covered will be repaired or replaced at the discretion of Spytec GPS. Devices
requiring replacement will be fulfilled with a new or refurbished unit, or a similar unit if the original unit
is no longer available.
To take advantage of our warranty, go to http://www.spytec.com/pages/returns and review our
Returns Policy. If your device meets the above guidelines as well as the guidelines on our website,
please click the button to proceed to the Return Authorization Form. In the event that our online
guidelines change, this warranty will supersede any newer changes. Once you have filled out the
Return Merchant Authorization Form, please wait for instructions.