We offer the ability to pause your GPS service. This option will allow you to pause your account for up to 3 months. During the service pause, you will have access to historical reports and data, but will not be billed. Live tracking is also paused for the duration.


💡 Please Note: When you select to Pause your subscription, the Pause will take immediate effect and you will be given a credit for any unused days in that billing cycle. Your subscription and billing will resume when your selected time period expires and the credit will automatically be applied and you will be charged a prorated amount.

You can also resume your service at anytime by using this helpful article: How do I reactivate a device?
Please note: The option to pause your account is only accessible through our website app.


Step 1: Log in to our app from a web browser at app.gethapn.com
Step 2: Once logged in, click on the icon with your initials in the top right-hand corner, and choose "Settings."
Step 3: Navigate to the end of the menu along the top of the screen and click the

button on the right-hand side. From the dropdown on the right side, select "Cancel plan for a tracker."
Step 5: Hit the "Select" button for the device you wish to end service for.
Step 6. You'll have the option to temporarily pause your subscription for up to 3 months. Your billing and tracking will be stopped but you can still access previous data. Your billing will automatically renew once the time is up.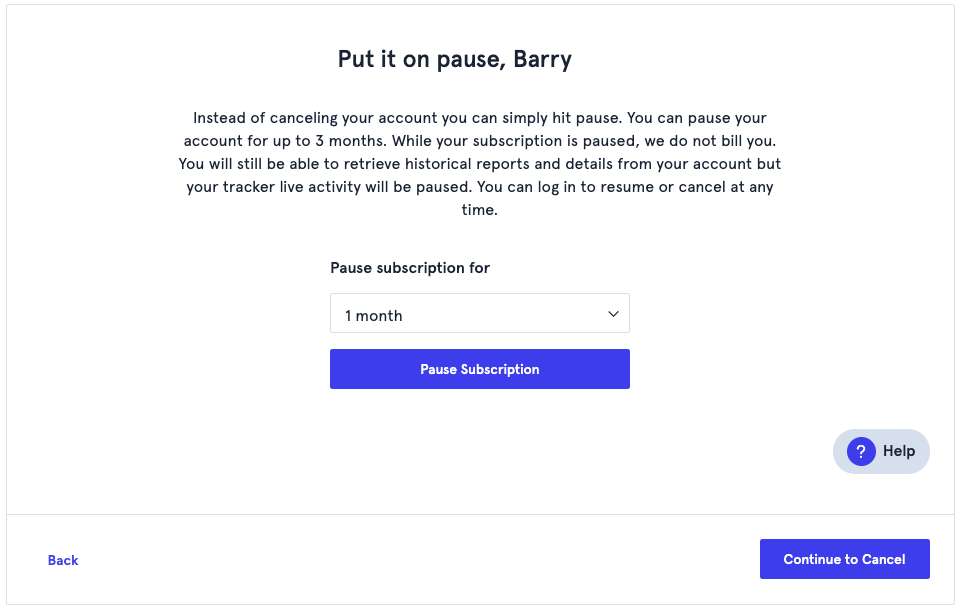 Step 7: You'll receive a message letting you know your subscription is now paused. Click "Done."


Once you're ready to resume service, you can follow the steps in this help article: How do I reactivate a device?